Update 10/19
This is a mash up of all the Jessica Jones trailers for the upcoming Netflix series
I gotta say this is more my speed than Supergirl but at least with Netflix I don't have to choose Gotham over Super Girl so I'm looking forward to this series and its importance bc there needs to be more female lead superhero projects
Check out the NYCCCON Pannel
I came across this from a  friend on Facebook and thought it was important This is the reason from 11 women why cosplay is empowerment to them
Here is a snipit check out the rest here:
UPDATE 9/16
WOOOOOOOOOO as of Agust 31 Hayley Atwell our fav Agent of Shield Peggy Carter has begun filming season 2!
I dont know about you all but cant wait to see this tough as nails gal kick some Hydra ass again!
Check out the articule on it here:
GIRLS RULE THE GAMING WORLD!!!!!
Check out this article its official Girls rule the gaming world!
A 2015 survey from the Entertainment Software Association (ESA) found that, in general, gaming is a major national pastime. One hundred and fifty-five million Americans play video games, and four out of five households in the U.S. have devices used to play them. And, despite stereotypes that gaming is dominated by teenage boys, most of the people playing games are not actually young men. The ESA report states:
Women age 18 or older represent a significantly greater portion of the game-playing population (33%) than boys age 18 or younger (15%).
Furthermore, women of all ages make up almost half (44 percent) of gamers in general, and 41 percent of the most frequent game purchasers.
Check out the full article bellow
  WOOOOO Netflix New Series Teaser
Well thank you Netflix we get a teaser that shows absolutely nothing but its still cool – now that's a feat !
HAWK GIRL OFFICIAL PHOTOS!!! 
Yep this is the real deal from the upcoming series Legends of Tomorrow
both characters will also appear on Flash and Arrow as guest stars as well! I think these costumes look awesome and thank God
they didn't go for a sexy and non tactical look, Pants instead of bikini bottoms or cut outs HOW NOVEL!
First Class Apocalypse 
well more pics has surfaced and alot of them from the film are the ladies and things are looking good.
I might also point out our first close look at Nightcrawler and how awesome he looks
 behind the scenes

I love the Armour !
 yep she's back !
 thats just wicked
Update 5/14 
Well Here it is the first Super Girl Trailer
Looks good from a girl perspective not a omnipotent superhero perspective. She wants to do more and be more thatn what people think she is or should be and that's "super" positive:)  I think that's a good ting we need flawed and developing superhero women as examples for the jr Superhero gals and all Fan girls of any age.
Also talk about a Great female role model Agent Peggy Carter got renewed for a 2nd mini season while Agents of Shield is on hiatus! wooooo Love it  Cant wait
UPDate 5/5
Rev up your Harley!!!! The pics are out of Harley From Suicide Squad and they are spot on to her new Comic series
 
Pretty damn close right!
I am glad they went with this version bc Hareley is stronger and not with Mr.J anymore so she's not getting slapped around anymore. She also as you can see from the comic page doesn't put up with any crap. I think this is great especially for the gal fans out there that want to see this movie its a better role model than old school Harley.
UPDATE 4/14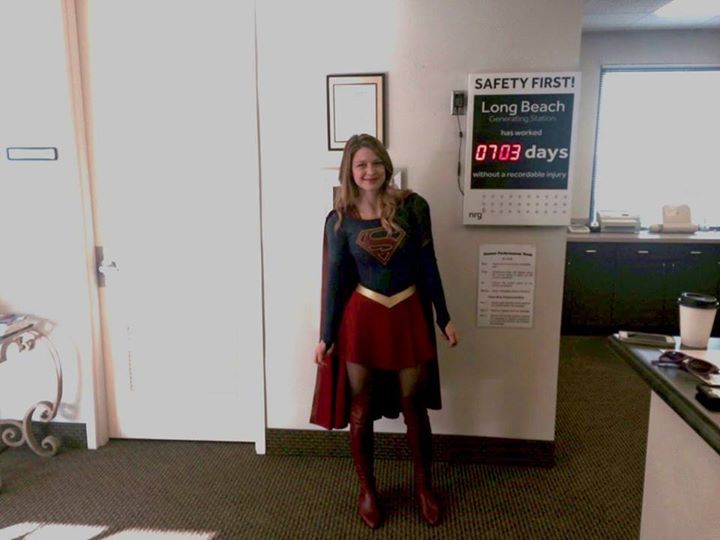 Here is a new photo and yes its real of the new supergirl suit. Looks pretty good to me.
Course the question is how will the show be? That answer comes down to the writing folks so
regardless of how good the suit looks if the writing stinks we wont enjoy supergirl for very long
Lets hope that is not the case. I got this from the awesome sight

Update 3/13 
NEW WONDER WOMAN COMICS COSTUME!
Wow this looks great  its not a bikini bottom or skirt wow now we are finally getting somewhere ! Take a look
I think this is pretty awesome and looks like something you can actually battle in not something to lay around the pool in.
Compared to past costumes its actually the most conservative with only her head and hands visible the rest of her body is completely covered. WHHHHHHAAAAAAAT  I know for a female character this is crazy talk but there it is!
I like some of the elements the old school boot color that is now thigh high. Amazon loin cloth connected to a great bodice armor and the shoulder plates very cool. Still has the lasso of corse but check out those wicked arm spikes attached to the gauntlets nasty, no need for a sword now. I like it what about you guys what do you think?
Update 3/10/15
Well since the last update was about Super Girl I'll keep it consistent this one is about it check out these for real pics of the new tv Supergirl


Not to bad the costume is solid but I still woulda liked the one below or HARK dare we put her in  . . . pants  gasp!
Anyway hopefully the show will be as good as Arrow is. I am all for a superhero show featuring a woman as the lead so this to me is great.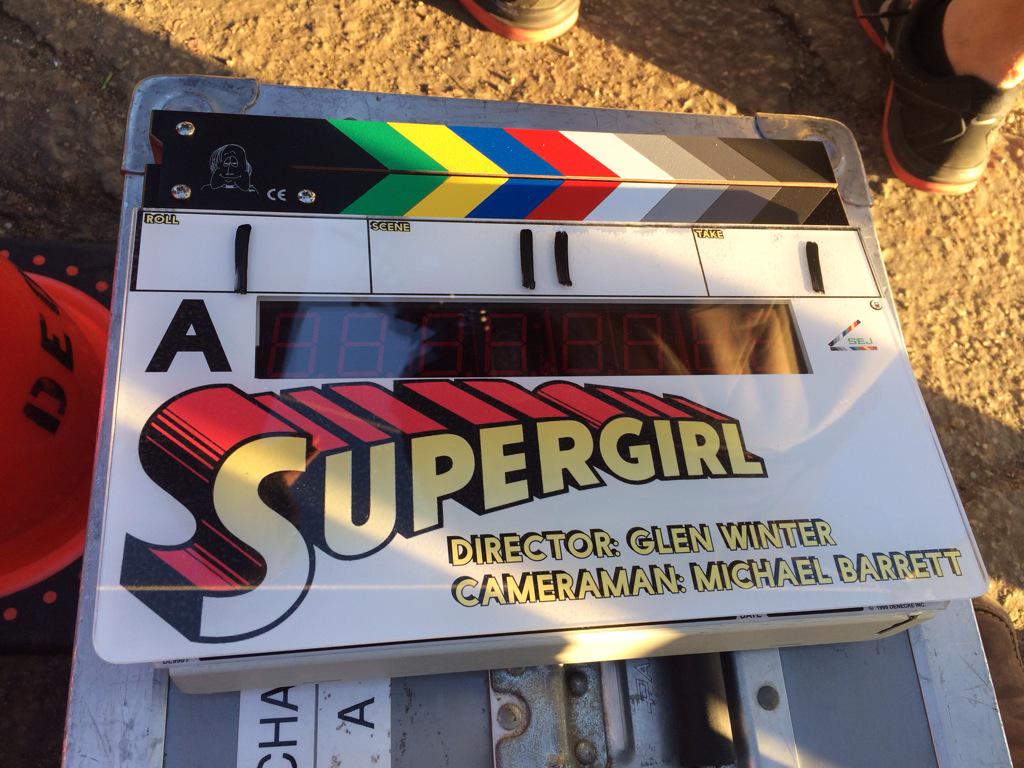 here is the clap board and they have started shooting the pilot
The pilot episode was written by Ali Adler ("No Ordinary Family") and Greg Berlanti ("Arrow," "The Flash"). They will also executive produce along with Sarah Schechter and Warner Bros. TV. The show has a series commitment at CBS.
Check out superherohype for more details 
http://www.superherohype.com/news/332337-production-begins-on-the-supergirl-pilot
Though not the 1st time on tv its been tried you may remember birds of prey in the 2003 and how it stunk. Hopefully they will have learned a few things since then
Great review of what happened and what shoulda check it out
Now here is the final fight between the shows Harley Quinn and the Birds
try to ignore the funny jumps and slowmo super jumps and the crapy costume on harley and the guy randomly laughing on the thing.
The song in the background T.a.t.u. All the things she said awesome song by the way
UPDATE 1/26/15 
SuperGirl is coming to the CBS
The actress is :
  Melissa Benoist  whom you may recognize as Marley Rose on "Glee
ok I know its very crude but saw this online and its best I can do without photo shop
Check Out the full article from 
http://www.superherohype.com/news/327561-melissa-benoist-cast-as-supergirl
Now lets not get too excited remember the Wonder Woman pilot that never happened for either fox or cw a few years back             ( less then 5)
At my count that would be the 1st time since the 70's wonderwoman  . . . wait Agent Carter was the 1st sooooo Super Girl is now the 2nd Female superhero on tv since then. This is good and hopefully the show will be good as well. Good writing and a good costume are crucial. Hopefully a realistic non swimsuit costume as well.
UPDATE 1/6/15
wooo 1st update for 2015 and what an update!
  LOVE THE HAT
Ok this is exactly what I have been talking about and what many will agree is needed. Peggy Carter is one bad ass chick!
This is the roll that could be as important and I would bet more so then the Wonder Woman tv series from back in the day , for female super hero's.
Now I now what you are thinking many period piece movies and shows way over use the "snappy dialogue" from the war and post war era. That is not an issue here a sprinkling is used and is so limited that I almost think what  were is the  . .oh there it is dialogue. I must also note there was only 1 one liner used and it was by Carter and in the last 8 min. Now that is some serious restraint on behalf of the writers.
Speaking of writing the story was strong both the adventure which was not totally resolved in the 2 hr premiere and the girl power coming through a crappy work and cultural environment. Now I might also mention that it was not PREACHIE about the major deficit between men and women, it put it out there and was interweaved well , no brow beating. But you will love a well deserved altercation with a major jerk who had it coming especially after a inappropriate slap on a nice waitresses behind.
We are shown a damaged women she misses steve and her anger over how he as Captain America is being portrayed in a radio show only makes it worse. She is also whip crack fast and knows how to work the thugs and gumshoe like co workers all while sticking up for herself. She was even able to use a ploy of serving "the boys" some coffee to get needed Intel. Its quite clear why see is one of the founding members of Shield.  I loved the irony of her taking down a large brusier all on her own while the radio show played with a pathetic damsel in distress saying "Captain America what would I do without you!"
There is no shield and no hydra nor hints of hydra corruption ( see captain america winter soldier and end of Agents of shield last season) But a new big bad is wanting all the toys of the returning Howard stark from the movie.  So this has to stand on its own and on her. The actress is great and will have plenty of time to flesh out her charecter much was done tonight.
The costumes were great and all detailed. The sets were great and all had lots of props making the difference for this period piece.
Those are     TYPEWRITERS     you push buttons to make type appear on a piece of paper  . . .but wait there is more to it than that?!?!? you'll have to watch  . . . when is a typewriter not a typewriter? very cool "old school tech"
The effects really well done especially for tv and a miniseries to boot. Course when you have Disney paying the bills it helps.
The stunts fantastic and remember she was doing all of this in heels and a sensible skirt ( or her stunt women)
The story: new big bad not shown "Leviathan" keep me interested and wondering whats next as more of Howard Starks nasty toys show up were they shouldn't.
The acting and this is the most important part: its great everyone is belivable though a little hevy handed on the guy supposed to be the mustard shirt stain sexist thug meat head but well that's what he is supposed to be so if THAT'S my ONLY complaint then there doing something right. The play between Jarvis and Carter was fun as was her and a actual decent male co worker with funny moments sprinkled in. Yes the show is funny too. Her smarts gave some funny situations and near misses that made me laugh out loud.
Plus I enjoy Agent Carter as a character her interplay between various characters is great and solid acting choices were made. I close by mentioning a great look shot at Jarvis when he attempted to cross the front of the car and open the door for her. She shot him a oh no you don't look and beat him to the door and waved him off. Loved it. Want more of it. I'll be glued to the tv if they keep this up for the next 7 weeks and I hope HOPE they do.
Bravo!!!! ABC AND Marvel Very Very well played.
UPDATE 12/18 : New poster found for shop
Hi Universe I just found this on the Facebook Page Ladies Geeking out, I love it might just have to find a place for this in my shop someplace

https://www.facebook.com/LadiesGeekingOut
UPDATE
I stumbled on this and thought it was just awesome, and exactly what I believe in these women are trend setters! its the list of the top 100 women characters in Pop Culture!
I'm very pleased that #1 on the list was Harley Quin!!!
You gotta check this out!
Here is the 1st part of the mega list!
 Part 1
http://houseofgeekery.com/2014/10/13/the-top-100-women-in-pop-culture-part-1/
 Part 2
 http://houseofgeekery.com/2014/10/20/top-100-women-in-pop-culture-part-2/
Part 3
http://houseofgeekery.com/2014/10/27/the-top-100-women-in-pop-culture-part-3/
Part 4
http://houseofgeekery.com/2014/11/03/the-top-100-women-in-pop-culture-part-4/
UPDATE
Ugh sorry folks shame on me for not having updated this in awhile, college makes you busy . . whod have known right?!?! 😉
Ok first up a wonder woman stand alone movie has been confirmed  you can see a slate of new WB and DC movies to come out as well check it out here:
http://variety.com/2014/film/news/warner-bros-dc-justice-league-harry-potter-spinoff-lego-sequel-1201330734/
Now I have been researching and reading through various girl as main hero comics that will go into the Superhero Women section in my future Manga and American Comic book shop. ( a cosplay fabrication studio is connected!!!!)  So here is what I got so far PLEASE tell me what and who I am missing!
Now a disclaimer I have not read all of these I have done the looking up to see what titles were recommended and which books were lead by a female. Now I made some obvious descions not to include some of the pinup comics that are on the shelf that feature a lead woman and thats bc I don't think a barbie doll sex object is what should be out their. Yes most of these women have a pin up body but they are at least not a pin up book. Also most of these have won awards and some the Eisner.  ALSO SOME OF THESE TITLE S ARE DEFINITELY FOR ADULTS NOT KIDS. Also some of the costumes these gals wear (how little it may be) are far from ideal or even functional so yeah these arent perfect but the point is they are NOT damsels in distress.
Any mistakes I have made  PLEASE CORRECT ME!!!!
So how did I do? Ladies let me known what you recommend will
have an immediate impact on what ends up on my shelves. This is
your chance to shape the comic community for girls in
Summit County Ohio
WHAT DO WE WANT? "A BLACK WIDOW MOVIE" WHEN DO WE WANT IT? NOW!!!!
WHO ELSE WANTS IT! "ROBERT DOWNY JR"
I love Supereherohype.com it has the news about all the fun things in comics movies tv and of corse conventions.
I fully support the female superhero or super bad girl.
Seems like Im not the only one Iron Man himself said so in a recent interview check it out here:
http://www.superherohype.com/news/314237-robert-downey-jr-supports-a-black-widow-film
I'd say we are LONG overdue for a female lead superhero movie. The most likely candidate is black widow. We could see all that red that she wants to wipe out of her book. Then we could get a current time movie that's 2 flicks right there.
yes I know The Catwoman stand alone movie was terrible and yes the Birds of Prey series was canceled it wasnt that great either.
Let us not forget that Arrow the tv series is great and the ladies in that Huntress among them have been preaty bad ass.
So who do you want to see get her own movie?   
Ok folks LETS HEAR IT FOR THE GIRLS , LETS GIVE THE GIRLS A HAND!
Yep that's right its a brave new world folks and its because of you ladies out their.
It seemed like every comic shop and Superhero movie was guys only but in the past few years that has changed.
Shock of Shocks girls have been spotted in comic book shops!
Girls are buying graphic novels at bookstores.
Girls are taking their significant other to the latest Super flick.
It's a brave new world Gentleman and we are no longer part of a nationwide boys club. Our nerddom has now become a mixer!
I say this because its true. I have interviewed every comic and gaming shop in 2 counties and they all say the same thing 30% or better of the customers are girls now! Yes some of this has to do with the growing popularity of Anima and Manga in the states and how comic conventions and cosplay is trending.
BUT gentlemen and I do use this term loosely We MUST SHOW RESPECT FOR OUR FELLOW NERDS!
All of us I am sure have heard about the unfortunate incident at the Comic Con -a jerk getting handsy with one of the female Cosplayers. NO NO NO  NO
COSPLAY IS NOT CONSENT FELLAS!!!!!!!!!!
You are going to ruin it for the rest of us. I'll be frank yep they are hot. We all know it. You go to the Louvre you think you can just walk up and touch the mona lisa HELL NO same thing applies to any convention. Look don't Touch  and also I might add look don't GAWK!
We as gentlemen need to be good ambassadors to our female cohorts! They are a emerging market and group and need to be shown some respect.
Now bellow is an article and it is about how girls are coming out in droves and should get more consideration when it comes to media and entertainment. Its a great article and a must read.
I will be posting the article soon as I can make sure the darn thing is able to be read.
So gals let me be the first to say it officially: Ladies welcome to the club and we are glad your here.
Future additions to this page will  be talking about female driven comics and hopefully I can get you gals to chime in!
Believe it or not I have counted 17 titles that feature a female Hero and I DID NOT count several titles that merely pinup comics.