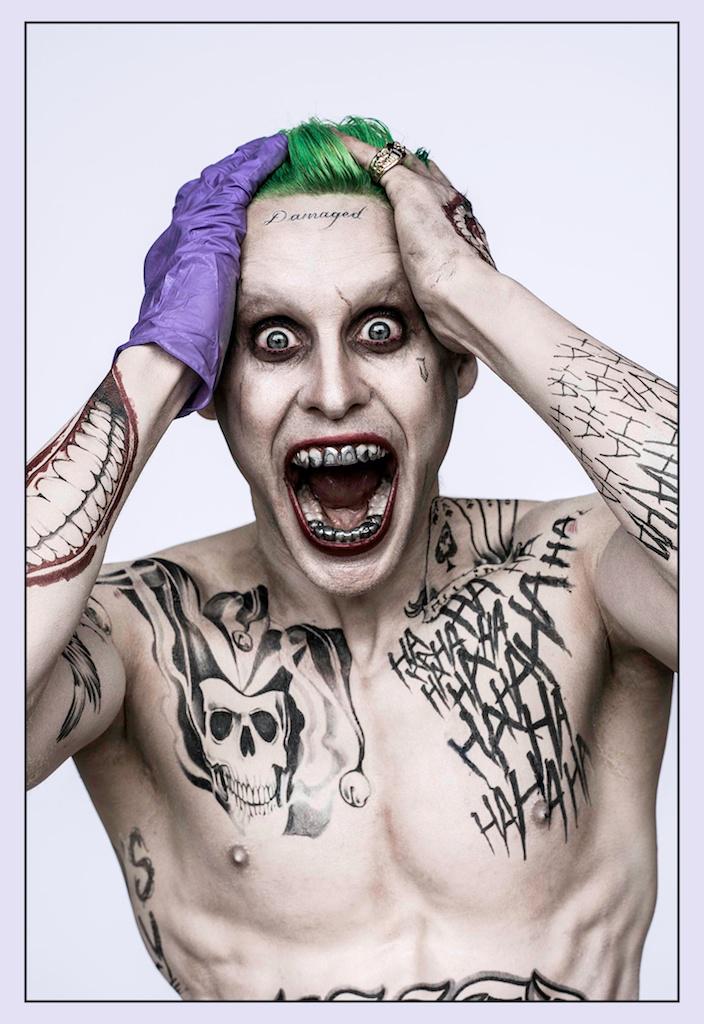 Meet the new joker.
ummm  . . . sigh . . . I learned a valuable lesson when they came out with the announcement that Heath was the new joker and I though ugh they totally blew it.  Than his version was incredible.
So I WANT to reserve my judgement on this. I really do.  . . . takes deep breath.
UGHHHHH THIS IS TERRIBLE!!!!!!!!!!!!!
Ok I don't mind the tattoos, that will make sense in the film but a few things I cant get passed.
1. damaged tattoo on forehead – overkill and stupid
2. silver eyes and teeth caps bizarre and distracting- is this in place of stretched grin if so it sucks
3. where the hell are his eyebrows? –
heaths blended into his eye makeup so he technically didn't have any either
and I know I KNOW this is different I know I get it ok I get it, but come on it looks weird and not a good weird
4 AND MOST IMPORTANT – NO ELONGATED MOUTH. 
Jack had a stretched mouth
Heath had scars
Letto- lipstick. WHAT???? THE TATTOO ON HIS ARM HAS THE STRETCHED LOOK NOT HIS ACTUAL FACE.
Now I will say this: the costume is really the crucial thing here. The costume is what ties everything together. Had heaths costume been crappy than it woulda made a difference.
Jack had a great costume and it matched for what he was doing.
So as much as I do not like this I have to say lets wait until we see the costume. This is a very incomplete look, tattoos do not a character make so once he is in costume I think we will be able to get a better idea of what they are doing.
I might mention this: if this is what the joker is going to look like what are they going to do to Harley?